OLD COURTHOUSE MAY BE PART OF A BROADER PLAN FOR NEW LONG BEACH CIVIC CENTER COMPLEX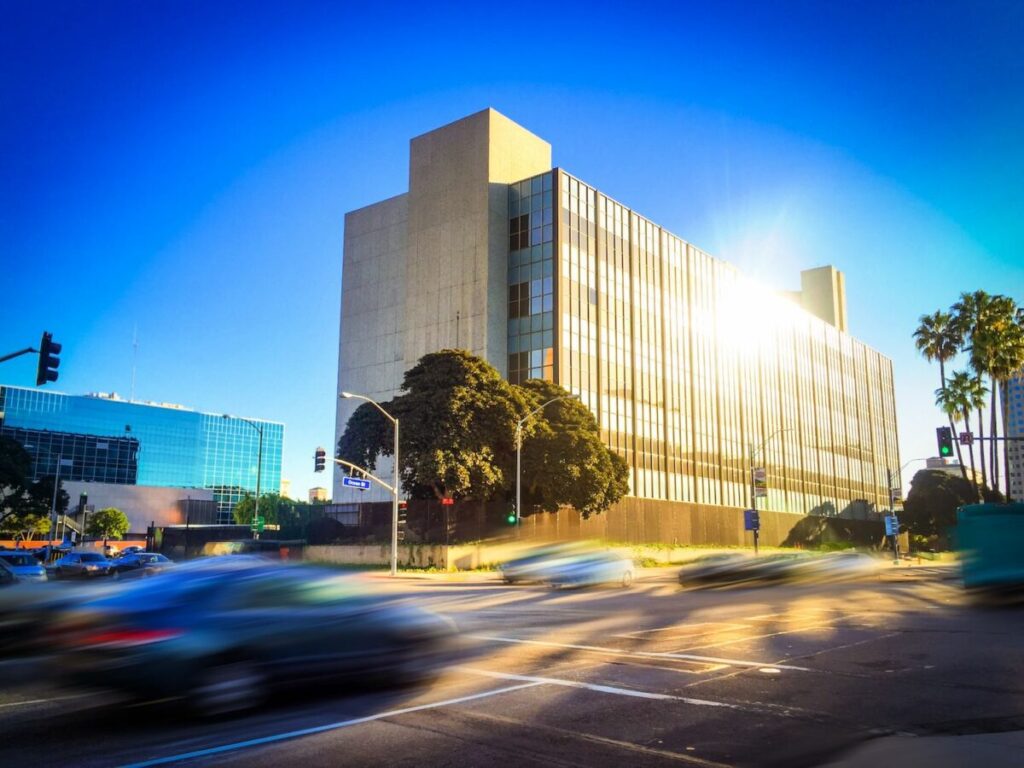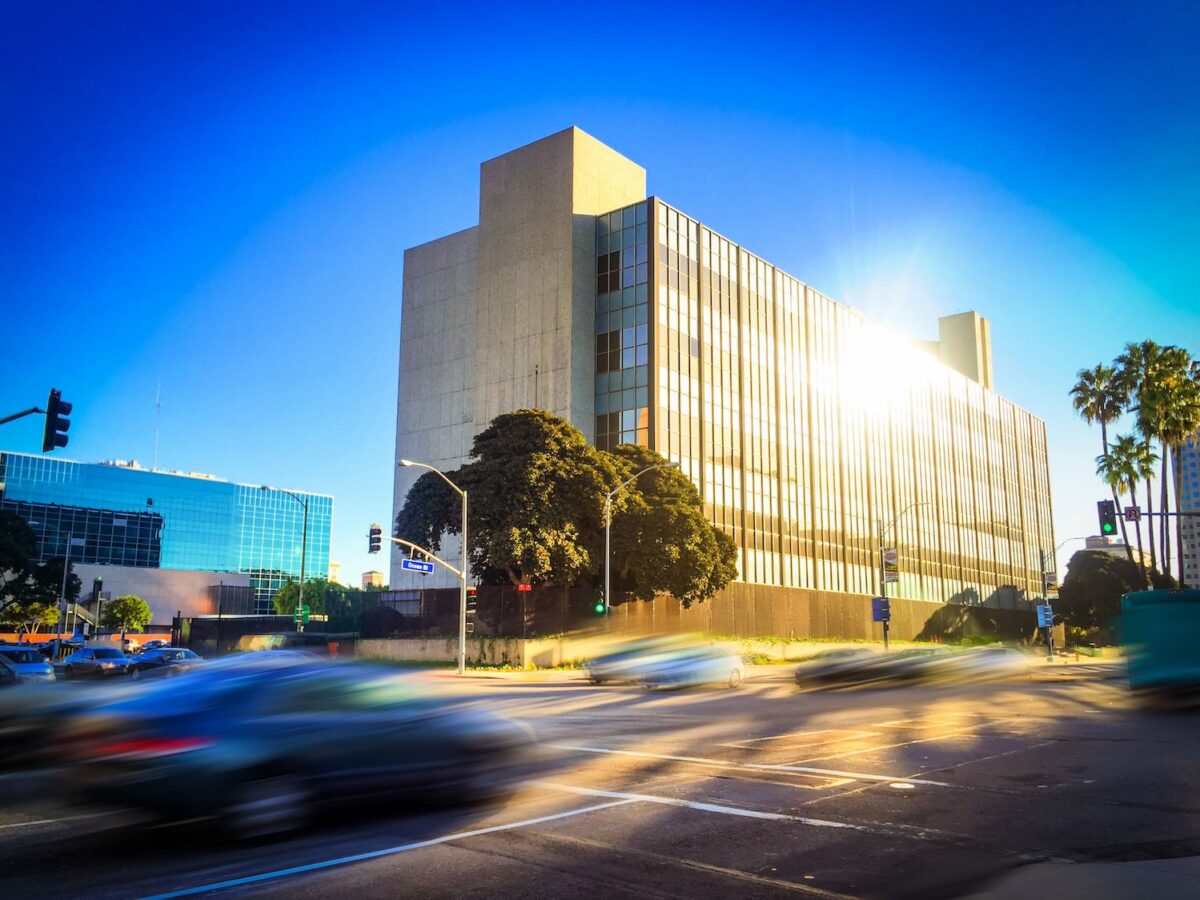 The original county courthouse as it looked in 2014. Photo by Brian Addison.
When David M. Zeligs first tried cases at the Long Beach Courthouse more than two decades ago, he didn't see what some now hail as a shining example of midcentury modern architecture.
He saw a decrepit dump.
"It was even crumbling back then," said Zeligs, a Long Beach attorney. "The infrastructure was becoming dilapidated, the escalators were constantly breaking down, and the elevators were a nightmare. It never was a building you felt welcomed in."
The city, apparently, agrees. The 55-year-old court building has been lumped into a broad plan to tear down Long Beach City Hall and its Main Library in order to build a sparkling new Civic Center — and possibly include a new Port of Long Beach headquarters —while giving a face-lift to historic Lincoln Park.
A shortlist of four developers qualified to revamp the 16-acre civic complex is expected to be handed to the City Council this month. The council could also discuss a needs assessment of City Hall and the Main Library, as well as a peer review of a seismic study of the Civic Center.
If city officials elect to raze the mostly concrete Civic Center rather than simply fix a seismically suspect City Hall, officials say, a request for proposals could be issued by spring.
If city leaders call for wholesale redevelopment, officials say Long Beach could have a new City Hall and civic complex by as early as 2018.
The current proposal calls for the new Civic Center to be designed, built, financed, operated, and maintained by the developer until it's paid off by the city in 35 years, much like the innovative public-private partnership that constructed the newly opened George Deukmejian Courthouse next door.
As such, it could be the largest public-private Civic Center in the nation, proponents say.
"The advantage to the life-cycle approach to building is that 35 years of maintenance is factored into the contract price," said Michael Conway, the city's director of business and development. "The risk gets shifted to the developer."
The latest Civic Center proposal calls for a 300,000-square-foot City Hall, about a third larger than the current building in order to squeeze in city departments now renting offices elsewhere for $2.1 million a year. It could also include a 200,000-square-foot port headquarters, plus a 50,000- to 70,000-square-foot library replacement, less than half the size of the current Main Library, according to a recent report.
While Conway declined to discuss ballpark costs of building the new Civic Center, he said it might run between $300 to $400 per square foot. That could add up to a maximum of $228 million for the three civic buildings proposed to developers, not including any parking garage or park renovations.
Demolishing the old courthouse, on the other hand, could cost an additional $4 million, as it may contain hazardous asbestos, he said.
A seismic retrofit and upgrade of the current City Hall, by comparison, could cost up to $170 million, according to a Request for Qualifications report in June.
The latest salvo to potentially flatten the nearly 250-foot-tall building and its surrounding environs follows a Long Beach tradition of bulldozing grand city structures to erect new ones. Two 19th-century Long Beach city halls were followed by a monumental neoclassical city headquarters with four domed towers in 1922.
After sustaining damage in the 1933 Long Beach earthquake, it was remodeled into an Art Deco-style City Hall the next year. The new city center and two complimentary Deco buildings would all be targets for the postwar wrecking ball.
By 1947, architects proposed erecting a modern glass skyscraper. When it finally opened in 1976, the new City Hall soared 14 stories over downtown, its dark-tinted glass flanked by four massive concrete piers. A new Main Library opened just in front of it and boasted a futuristic rooftop park replete with grass, trees, and trails.
Designed by internationally renowned Long Beach architect Edward Killingsworth and a consortium of designers, the buildings were supposed to stand the test of time. They didn't.
The rooftop library garden soon drew vagrants and leaked water on volumes of books below; it was ultimately clear-cut. Long Beach government once again outgrew City Hall, forcing talk of a new, more attractive building.
Both structures, meanwhile, were found to be potentially unsafe in an earthquake, with the great piers holding elevators at City Hall likely to fall away like booster rockets during a powerful liftoff. While some denounced their style as coldly brutalistic, others say they more accurately reflected late midcentury modernism.
Preservationists cry foul at their possible demolition, which might include the 1958 courthouse designed by Francis J. Heusel, architect of the nearby Public Safety Building, which opened the same year and has been recently restored for city police use.
"Many preservationists in Long Beach want to see the Civic Center saved, and the courthouse building adaptively reused," said Louise Ivers, a board member of Long Beach Heritage, who sits on the city's Cultural Heritage Commission. "The Civic Center buildings are among the last modern buildings in Long Beach designed by outstanding local architects. They're all significant."
Library supporters said it's vital the Main Library be rebuilt in the Civic Center, where it's been since 1896, and now serves nearly 320,000 patrons a year, who borrow as many books.
They also say Long Beach could join such cities as Cerritos, Seattle and San Diego whose landmark libraries have helped fuel downtown renewal.
"What we … want to see above everything else is the Main Library continue to be part of the Civic Center plaza," said Sara Myers, executive director of the Long Beach Public Library Foundation, citing a city provision to potentially leave it out. "That's our sole key goal."
The day the old courthouse closed last month, its modern lattice of once-bright aluminum and glass had faded long past its beginnings during the presidency of Dwight D. Eisenhower, its rose-colored terrazzo stained and cracked. A framed photograph of bygone justices was tossed into a nearby dumpster.
Over the years, the dilapidated courthouse had been the home of countless criminal prosecutions, divorce filings and traffic fines. Among its more notorious cases was billionaire Ronald Burkle's divorce and failed attempt to shield its steamy details from the press.
Then there was the conviction of three Baby Insane Crip gang members for gunning down a CHP officer's son during a 2008 New Year's Eve party.
In another case, a man convicted of beating his wife escaped his handcuffs, then leaped from a third-floor balcony to his death. In 2005, a juror suffered a heart attack and died when paramedics were slowed by its creaky escalators and an elevator that didn't reach the sixth floor.
"There's very little nostalgia about this place," Zeligs the attorney said hours before the hardwood-encased courts ceased operating on Sept. 6. "You make the best of it. It was built for the state and bureaucratic needs.
"I think justice was an afterthought."
By Dana Bartholomew, Los Angeles Daily News | Link to News Article